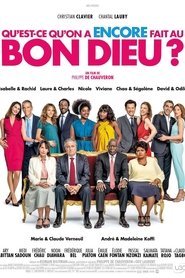 Qu'estce qu'on a encore fait au bon Dieu
Let's go ! According to Satellifax, the filming of the sequel to What we did to God? started today. The daily audiovisual and film adds that the shooting of the feature film by Philippe de Chauveron will extend until June. More than two months of filming planned, which will allow the cast of the first part to be in this highly anticipated sequel. Last night, some Wild Oats of the film's actors (Medi Sadoun, Elodie Fontan, Frédéric Chau, Frederique Bel, Emilie Caen, Noom Diawara and Ary Abittan) met in Paris to celebrate this new adventure to come.
On her Instagram account, Frédérique Bel has also posted a beautiful family photo (see above) and said that it is at the restaurant Lily Wang, located in the 7th district of the capital that they found themselves. If they were absent from the festivities yesterday, Christian Clavier, Julia Piaton and Chantal Lauby will also be in this sequel. Entitled "What have we done to God yet?", Matthias & Maxime The feature film will be released in our movie theaters on January 30, 2019, less than a year from now. Unfortunately for the moment, neither the plot nor the synopsis have been revealed. Mystery! We know, however, that director Philippe de Chauveron has again worked with his screenwriter Guy Laurent on this sequel.
Released in April 2014, What did we do to God? totaled, at the end of its theatrical exploitation, more than 12.3 million admissions. A colossal figure ranking the film on the top step of the 2014 France box office podium, far ahead of Eric Lartigau's Aries family (7.4 million Troupe Zero admissions), Lucy de Luc Besson (5.2 million) or even Babysitting of Philippe Lacheau (2.3 million).
Duration: N/A
Release: 2019
Watch and Download Full Movie Online in HD Quality