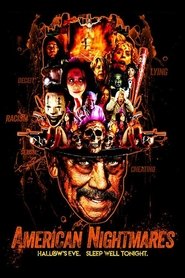 American Nightmares
Billed as the largest genre film festival in North America, Montreal's Fantasia Film Festival has unveiled the second wave lineup for 2018. Top of the list is The Lodgers Daniel Rob's apocalyptic thriller Dans La Brume (Just a Breath Away), which stars Romain Duris and Olga Kurylenko as parents who have to save their family when a deadly mist settles in over Paris. The film will open Fantasia Film Festival when it kicks off this July.
Other additions of note include the exquisitely titled The Man Who Killed Hitler and Then the Bigfoot, which hails from producer John Sayles and director Robert Nomis Krzykowski and stars Sam Elliot; Satoshi Miki's (also exquisitely titled) Louder! Can't Hear What You're Singin, Wimp!, and, no joke, Tales from the Hood 2.
2018 marks the 22nd Anniversary of the Fantasia International Film Festival and runs from July 12 – August 1 in Montreal. The full lineup will drop on June 28. Check out the Niet Schieten second wave of titles in the press release below.
Duration: 90 min
Release: 2018
Watch and Download Full Movie Online in HD Quality